ATTENTION: Standard disclaimer blah blah NSFW blah blah don't click the links in the presence of children blah blah MAY CONTAIN COCK. Or, at least, cock surrogates. And ponies.
Galleons, Etsy is… well, Etsy is really a mixed bag. There are some truly interesting, unique little shops present on the site, and I've found a handful of great items (including my favorite, ever-present-'round-my-neck locket) on their site. But for every one thing I find that I'd like to own, I find 127 other items that range in quality from utter crap to abso-fucking-lutely ridiculous. And occasionally horrifying.
But I think that's part of what keeps driving me back into the arms of Etsy (along with many of the shady back-alley areas of the web)- morbid curiosity. And it was during one of those random Etsy wanderings that I had an idea.
Etsy is wonderful. And fucking horrible. And everything is on it. So, I knew, I just KNEW, there would be sex toys. Oh yes, my galleons. It's a sex toy post. I have plumbed the depths of Etsy for you, dear galleons, to find the best (worst) the site has to offer in this arena.
And boy, did Etsy not disappoint.
Carved Bangsticks
Far and away the most popular option in, uh, unique labial lovin' is the oh-so-finely handcrafted dildo. And not just any ol' dildo. No, these are special. Sculptures in silicone.
AND YOU HAVE SO MANY CHOICES!
Aliens (both of the traditional and chestbursting varieties), gargoyles, pussy cats, the rotting phalanges (the phrasing of which is reminiscent of this) of zombies, snakes, gnomes… even our old friend, the squildo!
Now, those are all fairly standard sculpted-to-please fare. Hell, we've featured similar in some of our sex toy posts in the past. But it just wouldn't be Etsy if things didn't get… stranger.
First up, for the geek crowd (what up, my peeps… goddammit Sam, phrasing), the Dark Invader dildo, which is obviously not infringing upon any copyrighted material because the name is totally different:
While looking more like Rick Moranis' Dark Helmet than the infamous Darth Vader, this little guy is obviously for the sci fi fans.
But hey, I'm just saying that it bears a passing resemblance to the famous Star Wars character. I mean, he's not called Darth Vader. The creator isn't calling him Darth Vader. And any parts of the description that sound like movies quotes? That's a coincidence. Don't jump to any conclusions, Etsy staff.
In the same vein, Batz here is obviously not a Batman ripoff. Obviously.
Our next Super Awesome Etsy Find is the Island Explorer: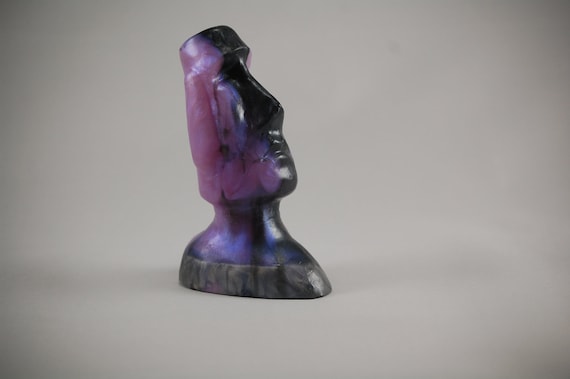 Butt (hah, COMEDY) this little guy isn't going to be exploring islands so much as… caverns. Crafted to look like a Polynesian moai, and while I don't see the appeal of shoving a replica of my (or someone else's) ancestors in any hole on my body, I guess that's someone's idea of a good time. And if so, hey, Etsy's there for you.
Because Etsy cares about your bum's ancestor fetish.
And finally, my favorite (and by my favorite I mean the one most like to ruin sex for me for the rest of my life), Tricky Willy: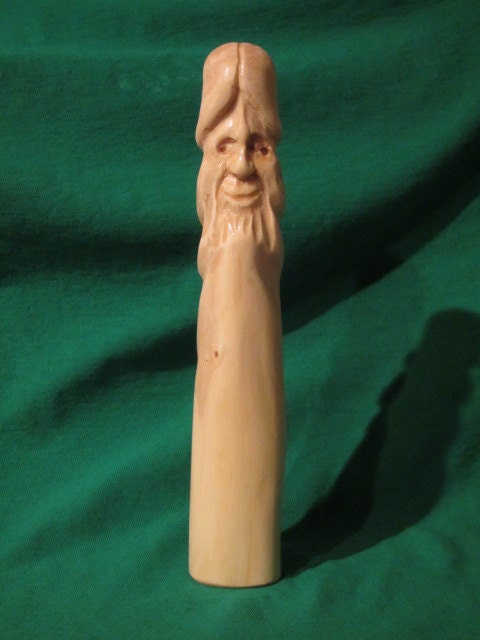 Tricky Willy might seem innocuous enough, but he disturbs the shit out of me. Perhaps because I imagine the creator of this toy once had a major acid trip that was supposed to end in a blowjob and instead ended in him having a prolonged chat with the cock gnome bouncing in front of his face. Which was probably a hilarious scene, but I worry that, after seeing Tricky Willy, I will never be able to look at a dick again without imagining a unique little face under the corona.
Your Run-of-the-Mill Fuckwands
We may have discussed the dildos carved to look like… well, a variety of strange creatures, but there are plenty of more normal cooch pleasers available on Etsy.
But that doesn't mean I can't make fun of them. After all, I've got mad mockery skillz, yo.
First, we have the hand crafted wooden models. Smooth, nicely curved, and bearing more than a passing resemblance to a table leg: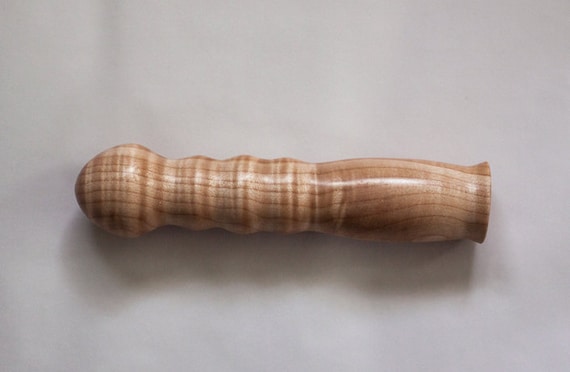 Listen galleons, I understand that people get rather creative in the use of common household items as pleasure devices. I do. We've all been there. But I can honestly say that I haven't been sitting around one day, so horny my labia feel like they are ready to Hulk-out of my panties and attack the nearest cock, and thought to myself, "Hey, I could turn all my frustration and Hulk-tendencies onto that there table leg and give myself some sweet, sweet relief from my crotchal woes." Destroying furniture to get off?
…Okay, well, to be fair, I have done that, but it was accidental. And I got a black eye from it. And… MOVING ON.
Actually, most of the Etsy dildo selection is of the glass variety. I'm never going to be able to overcome my pretty glass objects = pipes mindset, so I always think of smoking pot when I see glass dildos. And then I get the munchies. So it goes.
But this one doesn't make me think of pot: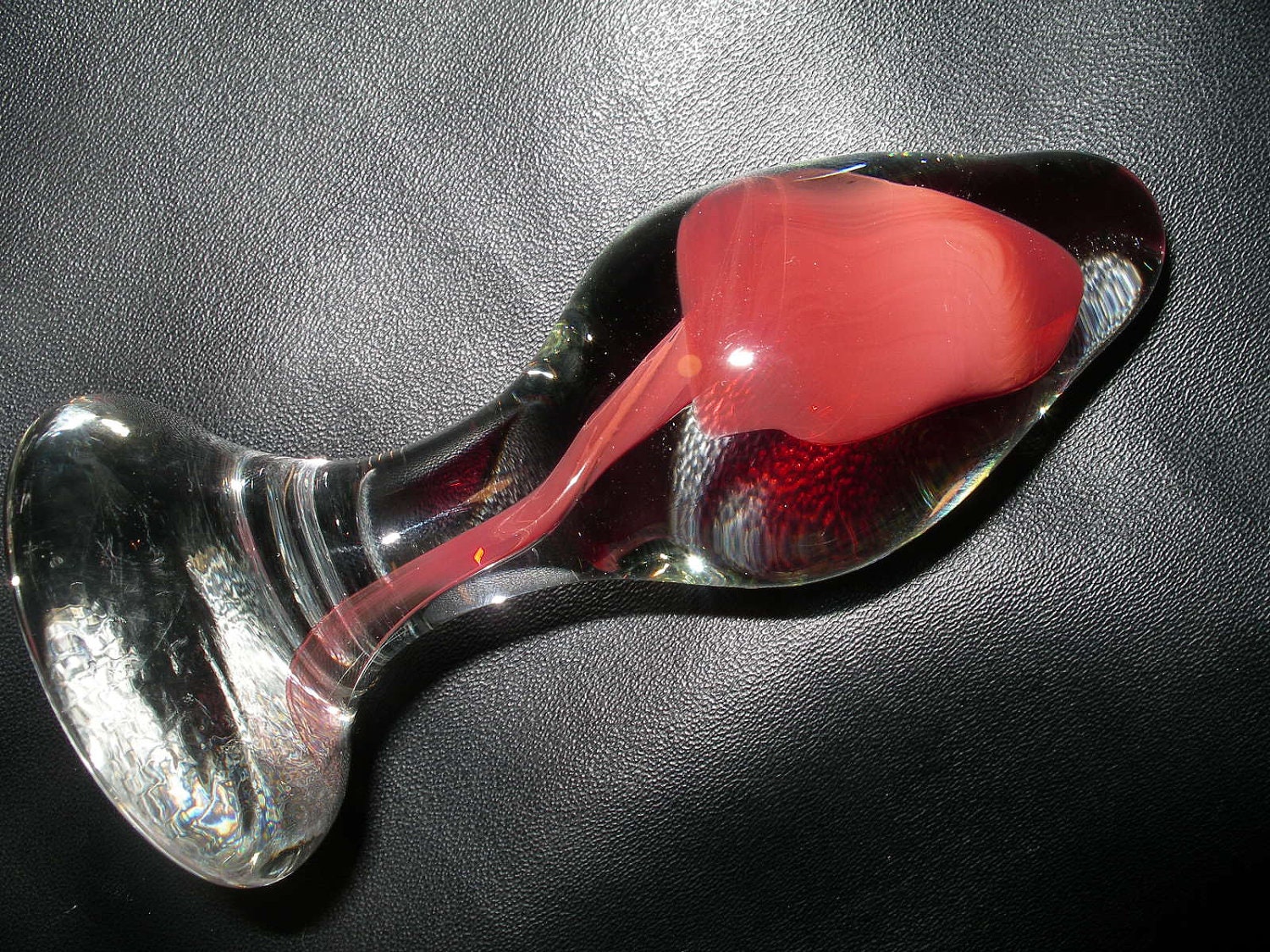 THIS one makes me think of sex. Particularly, of sperm. Of procreation. Of "oh sweet jaysus, why is there a giant red sperm in that butt plug?!" It's like minotaur sperm. Or Satan's sperm. And it's called the Wandering Red Shroom. Where the fuck is it wandering, Etsy? I've seen this goddamn horror film. Some naïve young girl gets this at a curiosity shop run by some mysterious dark haired woman, and the girl uses it, and suddenly her name is Rosemary and she's pregnant and, PLOT TWIST, it's Satan's. Not me. No thank you, Etsy. That girl always ends up horribly dead or insane/brainwashed to love her little Antichrist.
Fuck that shit.
So, let's move over to the far less terrifying silicone beasties, shall we? Oh, wait, no. Things are still terrifying over here. Because we have stuff like this little pink number: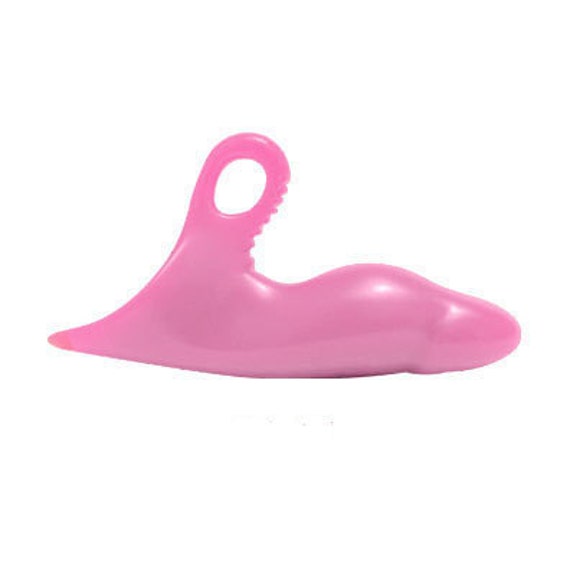 Which might look innocuous enough by your standards, but to me, it looks like a goddamn hand plane from a woodshop:
And I'm just not that into putting woodworking tools near my intimate bits, thank you very much. Also off-putting about this product? It comes with this weird user's diagram, which looks more at home in a textbook than in the bedroom.
I am also a fan of this particular piece, simply for its name. Two times a lady? Yeah, that puppy's real ladylike.
And if neither of these tickle your fancy, how about you design your own? Oh yeah, don't be put off by the fact that they kind of look like those water tube toys. It's part of their, ah, charm.
Paddles and Crops and Whips… OH MY!
Now, when I say Etsy has 'any paddle or crop you could possibly want', I don't mean 'a wide variety of paddles and crops', I mean 'ANY PADDLE OR CROP YOU COULD POSSIBLY WANT'. And if you can't find exactly what you need, I'll bet all you'd have to do is contact one of the kindly shop owners and they'd make one to your exact specifications.
Don't believe me? Then prepare yourselves for a parade of paddles, a cavalcade of crops, a festival of flails, a… oh, you get the idea.
There is a wide array of punishment tools on Etsy, made of anything from yarn to feathers to aluminum to boot soles. From the simple to the ornate, the silly to the elegant. And for all tastes, from the leather lovers to the steampunk crowd to the… well, to the folks looking for something a little more unique.
There are hand painted paddles for all fandoms. Hello Kitty (which makes way too many appearances in the sex toy market, let's be fair). Portal. The Discworld series. Transformers. Mass Effect. Internet cat memes. Final Fantasy. Legos. A Nightmare on Elm Street. Pacman (those holes… god damn, that's gotta sting). Super Mario Bros. Nightmare Before Christmas. Weird, swaddled bears. Who Framed Roger Rabbit? Game of Thrones. Invader Zim.
And some fandoms are very popular, drawing in multiple shops and a variety of products. For example, the Doctor Who fans. They have TARDIS everything. TARDIS paddle. TARDIS flogger. TARDIS crop. Hell, there's even a sonic screwdriver crop. But my absolute favorite bit of Doctor Who sex gear is this Dalek paddle: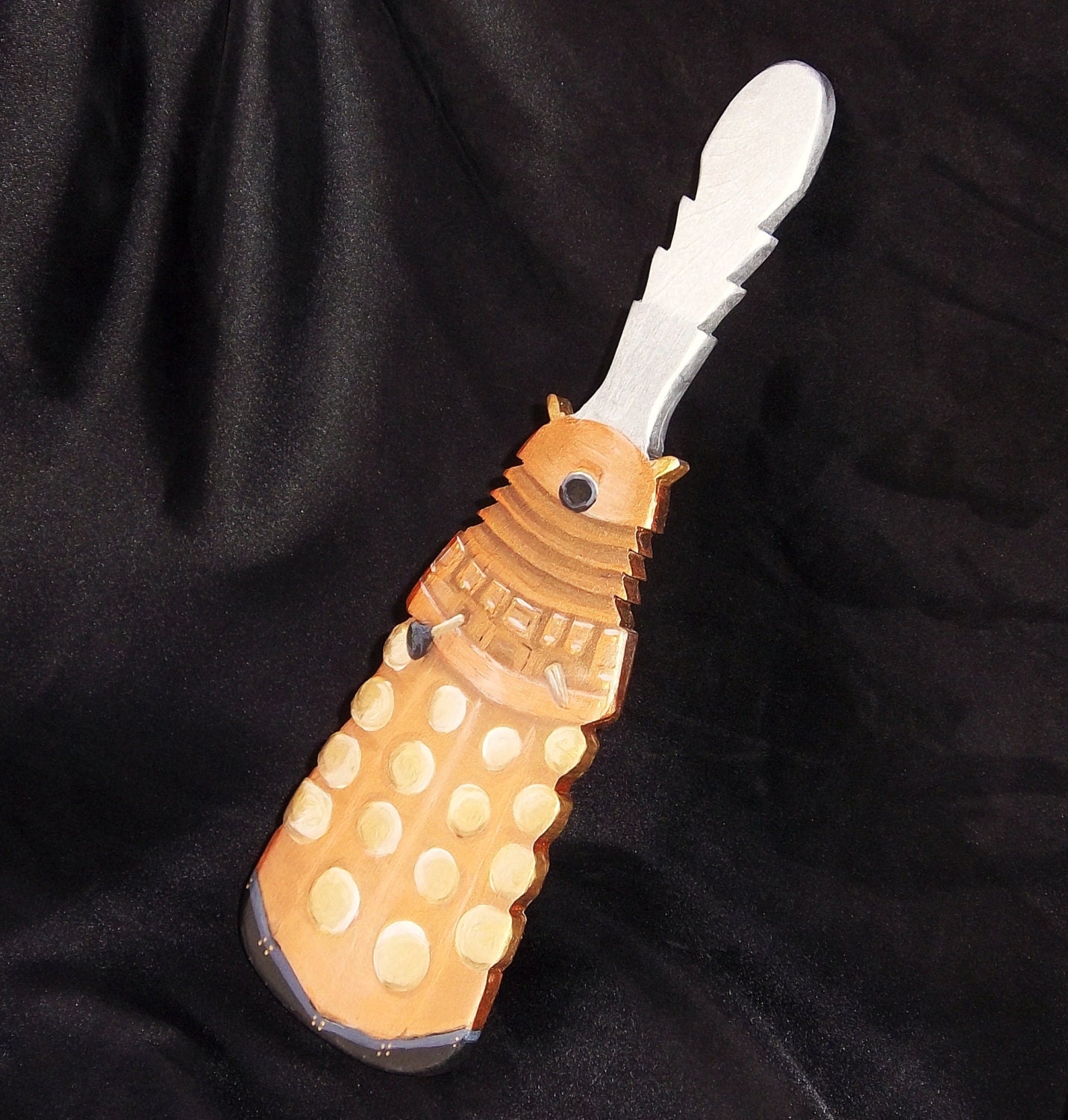 YOU WILL SUBMIT TO DALEK RULE. WE ARE SUPERIOR. YOU WILL BEND OVER AND SUBMIT. YOU WILL OBEY OR YOU WILL BE EXTERMINATED.
But Doctor Who sex toys? Eh, they're really not so weird. My Little Pony, on the other hand? What the fuck, people?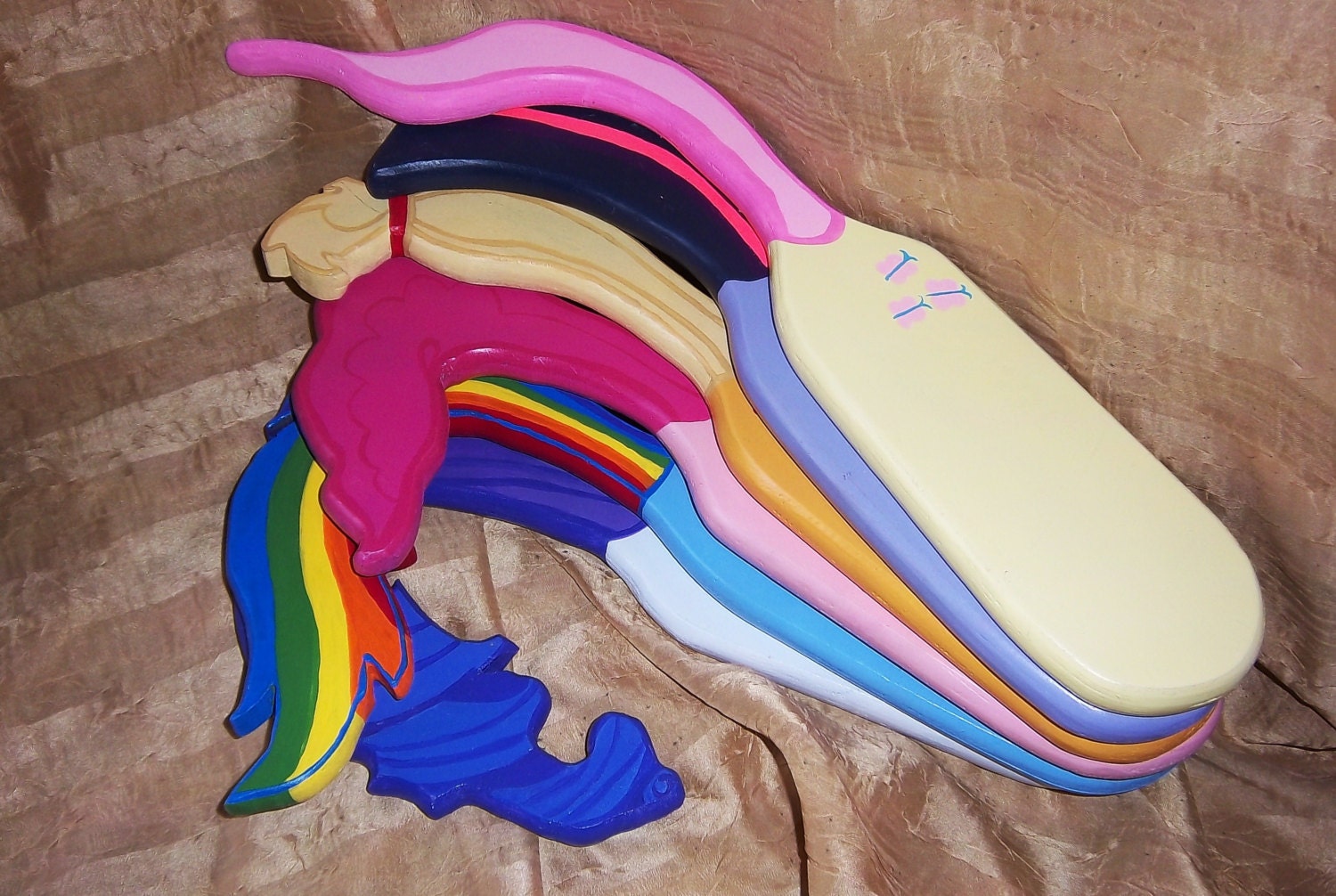 Yes, there is a complete line of MLP paddles by an Etsy shop. Each lovingly crafted to look like one of the mane (MOAR COMEDY) characters on the beloved children's show. Because bronies are fucked up.
BUT WAIT. Apparently, there are a lot of people who are fans of both Doctor Who and MLP. There is this whole fandom for Doctor Whooves, some kind of pony version of the good Doctor. I don't… I can't… WHAT THE FUCK?!
And so, for those Doctor Whooves fans, here's your very own paddle of the pony Doctor's flank. You're welcome.
Comic book fans have a lot of options (probably thanks to all the comic films hitting theaters over the last ten years), including (but not limited to) Iron Man, Storm, Mystique, Rogue, Harley, and Superman.
For you Star Wars fans, how about a little Imperial justice? And for the rare double dom relationship, a set of floggers that allow you to battle for galactic (and bedroom) dominance every night. You're a Sith, they're a Jedi. WHO WILL WIN?
And Trekkies, Etsy didn't forget about you. Don't you want this sexy Borg-inspired number? Resistance is futile, baby.
Potter fans, you can reenact all your Snape and Hermione spank fantasies with these gems. The Hogwarts crest paddle. Or, if you're feeling wicked, a Death Eater paddle. Or how about a crop modeled after Narcissa Malfoy's wand?
Or you can have a real console war: Sega vs Nintendo. FIGHT!
This is listed as a 'beautiful aluminum paddle':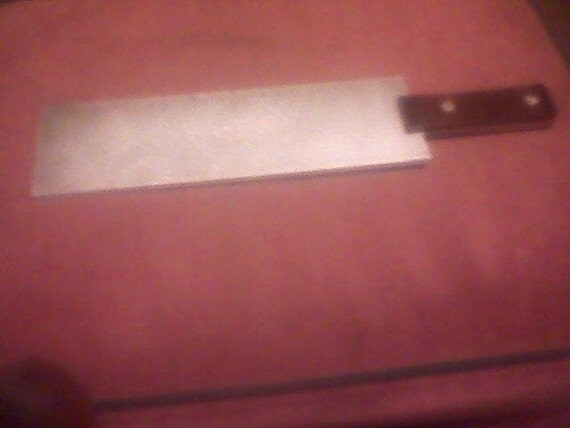 But I've seen it before. That is an exact replica of a Dead Island machete:
I don't really think Dead Island is a sexy-type game, but I guess it does involve a lot of bodily fluids and half-naked people running around on a tropical island, so eh. Go for it, you crazy kids.
And here's a whole subset of sex tools for people with no sex life: THE WOW NERDS! Pick your side and get a paddle! And because we all know the Horde is the best (for the Horde, motherfuckers), some additional Horde goodness. And finally, a little Dalaran-inspired flogging action. Oh yeah.
Then there's this, for when you're feeling like a modern Prometheus.
And this, for when you really need to teach someone a lesson.
And finally, for those who like their sex served up with a side of fear: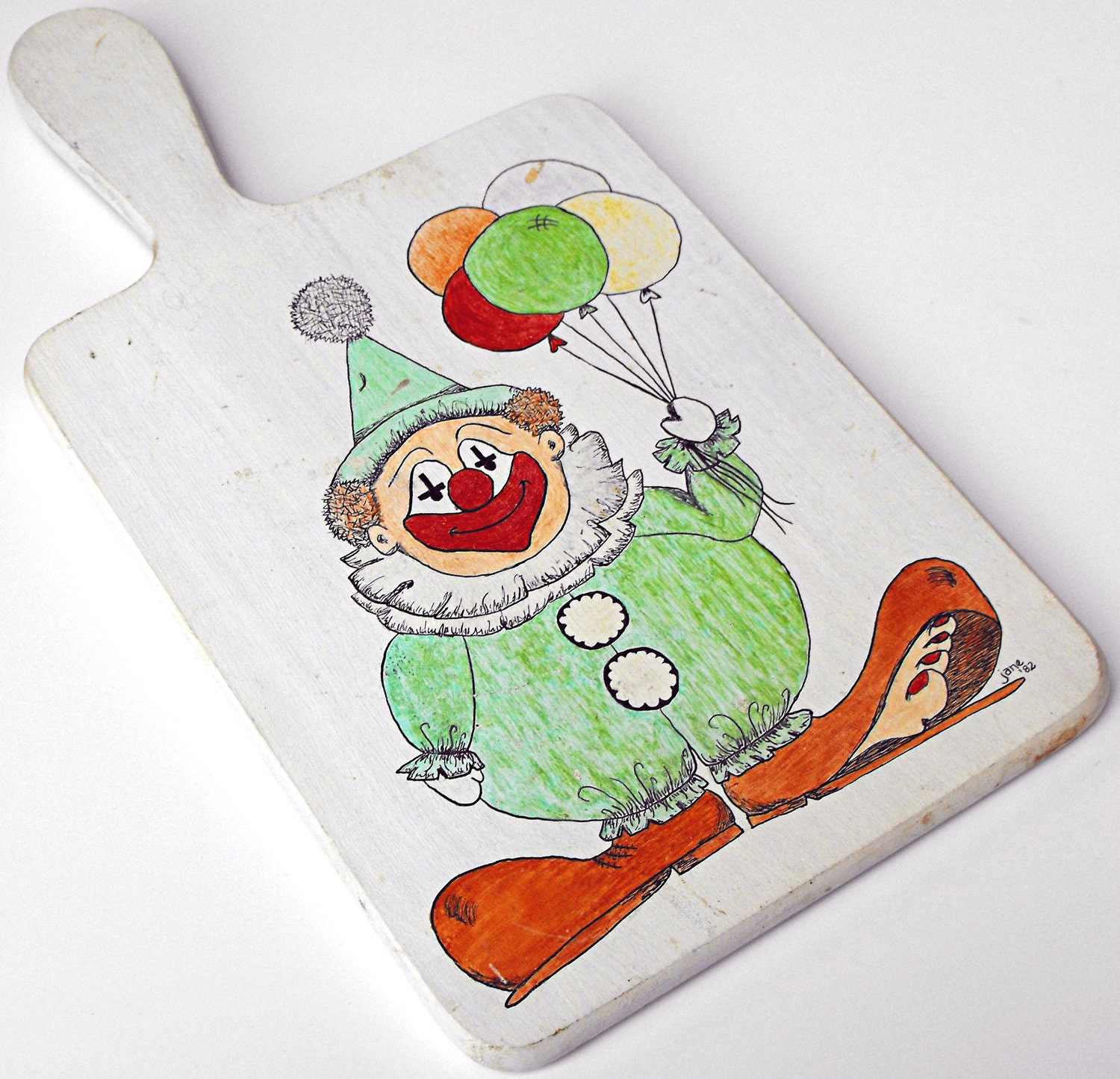 …Listen, anyone who's read Stephen King's It has a very real, very healthy, very logical fear/aversion to clowns. Don't judge me.
Wearable Goodness
The sexy section of Etsy is so much more than just sex toys, galleons. It's got sexy apparel, too! Oh yeah.
Sexy underwear with a pocket to hold the cash after the gentleman pays you? Etsy's got you covered.
Crocheted strap-on harnesses? Etsy's got you covered.
Fancy steampunk bondage cuffs? Etsy's got you covered.
Rainbow dick pendants, to show your love of queers and cocks? Etsy's got you covered.
And how about shoes with dildo heels for the foot fetishists out there? Etsy's got you covered here, too- a whole shop of dilettos!
Furniture for Fuckin'
When outfitting a sex dungeon, it's important to find only the best pieces. You have to look everywhere. Comb the net, search the best shops… and sometimes, go to Etsy.
That's right. Etsy's home to your sex dungeon needs. They should really advertise that better.
I mean, look at this fine piece of dungeon furniture, the bondage horse. Ebony stained birch, burgundy faux leather padding, heavy duty hardware, and it folds right up, so you can tuck it out of sight when the in-laws come over.
And how about a sex machine for that sexy lair you're crafting? A dark walnut stain, 19 inch bar. "Adjustable speeds from slow to OMG!" How can you resist?
But this next piece has to be my favorite. At first glance, it's your average St. Andrew's Cross. But this bad boy is a motherfucking transformer!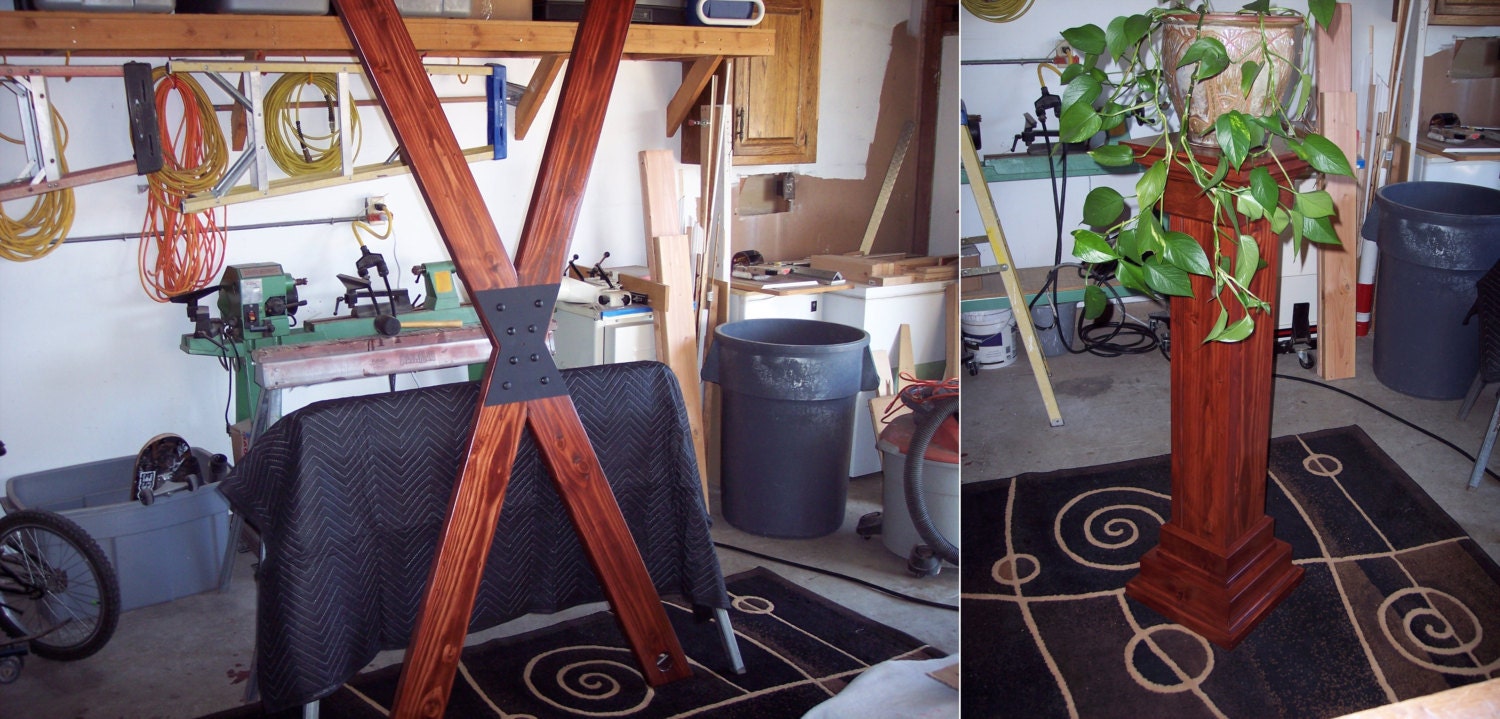 Sexy dungeon furniture by night, totally vanilla plant pedestal by day. That is some quality sex gear, there- functional and fucktional.
Dirty Decor
It's not just about sexy furniture, though. Everyone knows that it's the little touches that really make a house a home. Or a house a sex pad.
Touches like a lovingly embroidered rabbit vibe sampler. Just like grandma used to make.
And what about these artful magnets? Cover your fridge in the genitalia of a young British girl, because even vaginas are classy if they have a British accent.
For the kids' room, what about these colorful dinosaur wall pieces? What? Even the king of the lizards gets lonely sometimes.
This majestic sculpture shows off your love of both cocks and the black power movement. Or fisting. Black power or fisting.
And for a touch of undersea whimsy (guess I wasn't the only one who made the connection), this happy little mirror.
But I think my favorite thing is this sculpture, Silver Seduction: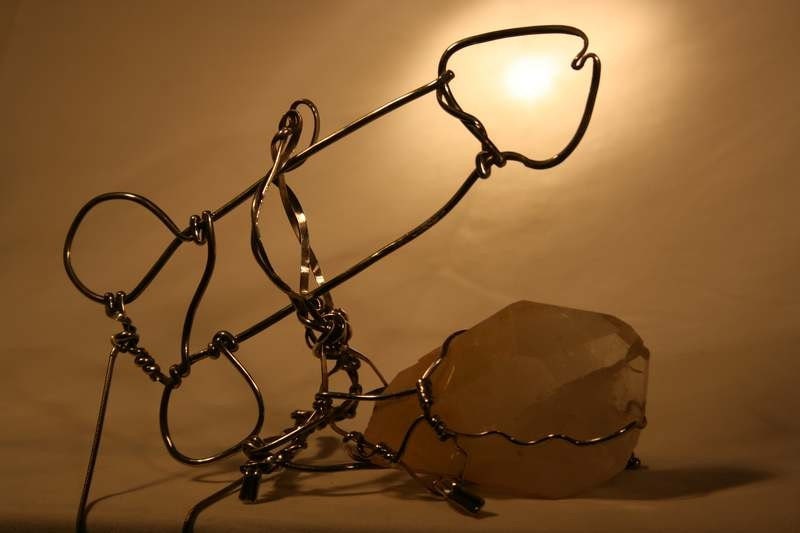 Like a 3D representation of the finest in bathroom stall graffiti, this piece will really bring a 'filthy truck stop restroom' vibe to your love shack.
Various and Sundry Other Goodies
In my Etsy wanderings, I came across many things that are, well, sex toys in the very real sense of the word. And so, I'm giving them their own category in this list, because I think some of them are hilarious and I can't not share them.
You're welcome.
First up, we have a game called Spin the Wank: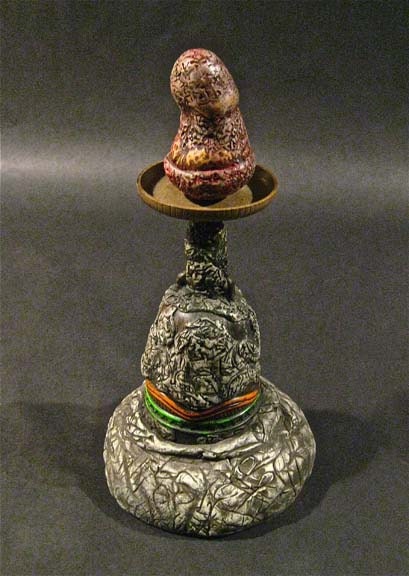 Spin the Wank is a variation on Spin the Bottle, only instead of spinning some bit of glassware, you twirl a little ceramic cock. How fantastic! You can only imagine how the rules of the game change when you switch out bottle for dick. Let's just say, that's going to be one hell of a party…
And here's a little sperm plushie. That is, apparently, signed by the creator? Like, the creator of sperm? I really want this to just have GOD scrawled across the back.
…Yes, I read the description. I know it's signed by that Bethann woman. My version was better.
What about this 1967 sexometer? I enjoy the fact that 'sex starved' is both a sexiness rating AND rates above 'heavenly'. Sense, this product makes it.
Here's a Christmas ornament/key chain sculpted to look like a blow up doll. I don't have a snarky comment for this, I just think it's funny.
For the well dickerated bathroom, how about some Mr. Penis soap? Though if you're calling him Mr. Penis, you could at least give the guy a top hat. I mean, honestly.
Now see, these guys know how to make a cock look classy. Those are some sharp dressed dongs right there.
This is probably the best toy on the whole site, both for sheer WTF factor and for the horror factor: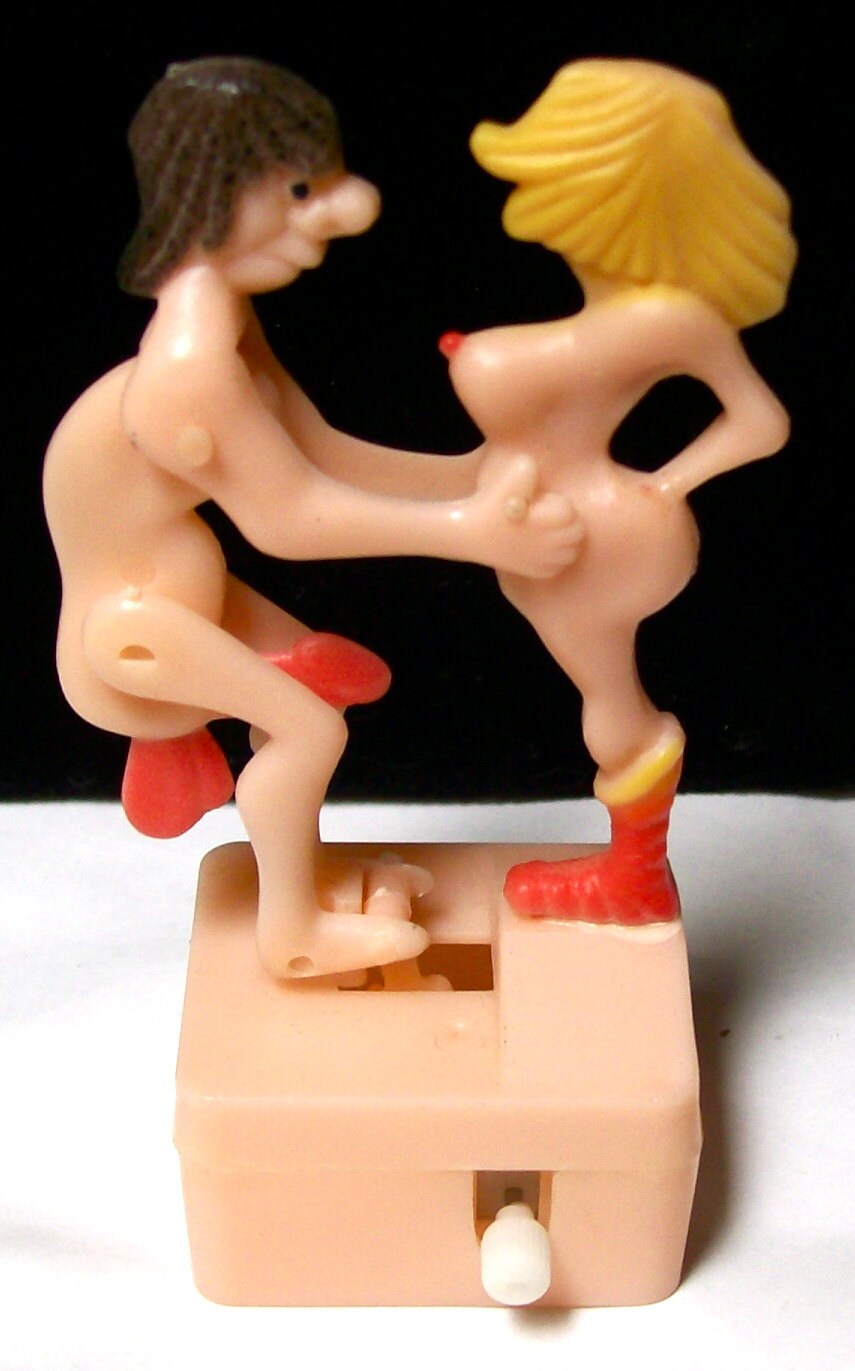 As I'm sure you've guessed, this little guy shags his lady when wound up. Deliciously crass. But then you see their faces: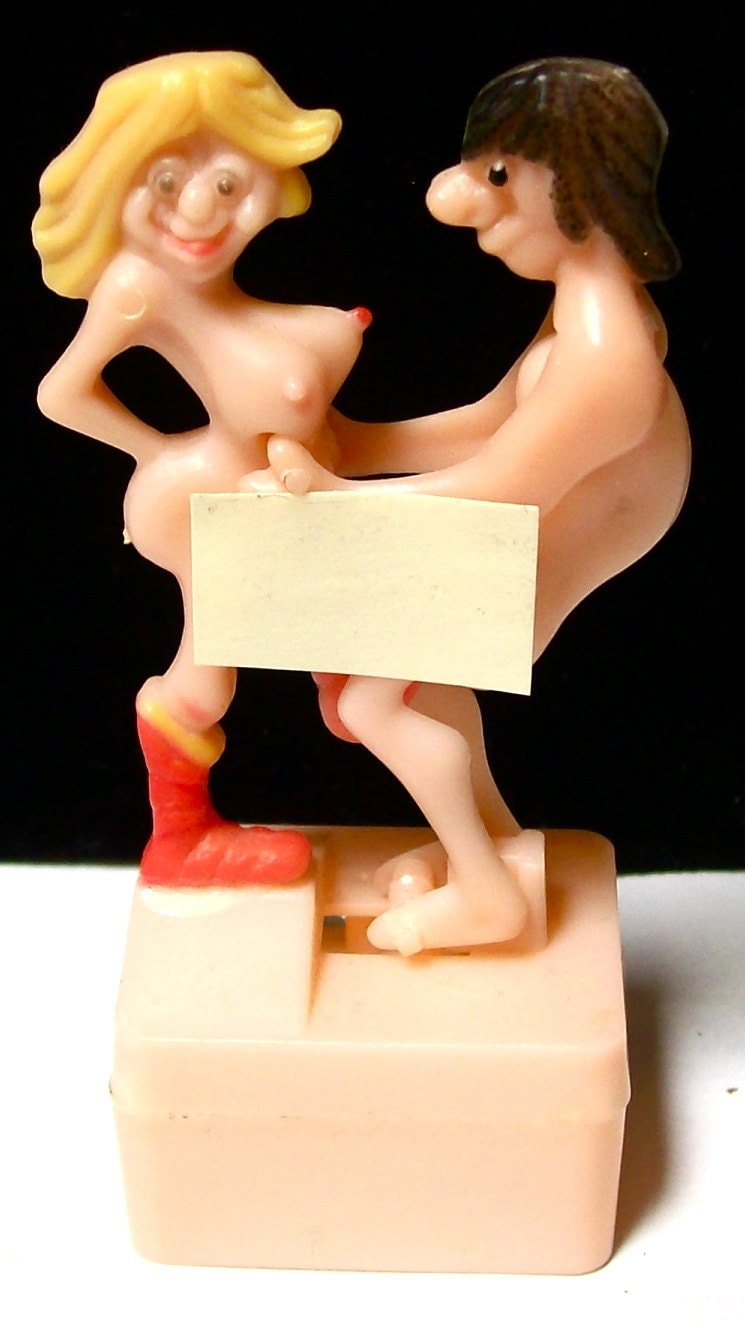 HOLY SHIT. What is… what the… *whimper*
The horror.
Moving on… to decorate your notebooks, love letters, sex toy box, etc., why not get a set of dildo stickers? Add a little naughtiness to everything.
And for when you try a position you really should have stretched before and end up a little sore the next day, here's a lovely little hot/cold pack to ease the pain. Also, it smells like lavender, like a good cock should.
And finally, we have the prick cushion. And while I could try to come up with something clever to say about it, I think its description is just too good to attempt to top:
This Prick Cushion is one Hot Pink Rod. He rides like a roller coaster, purrs like a kitten and moves like a hot knife slicing through butter.

For scorned lovers, and women with penis envy, a present for a secret spinster sister, the perfect bachelorette gift for the crafty girl who has everything or the pin cushion you will never lose (but hide from your mother-in-law).
Need I say more?
***
I hope you've had fun on our tour of Etsy's sexier side, my galleons. I really do. Because now that we've had fun, I'm going to scare the shit out of you by taking you to the darkest area of Etsy.
Welcome to hell, galleons: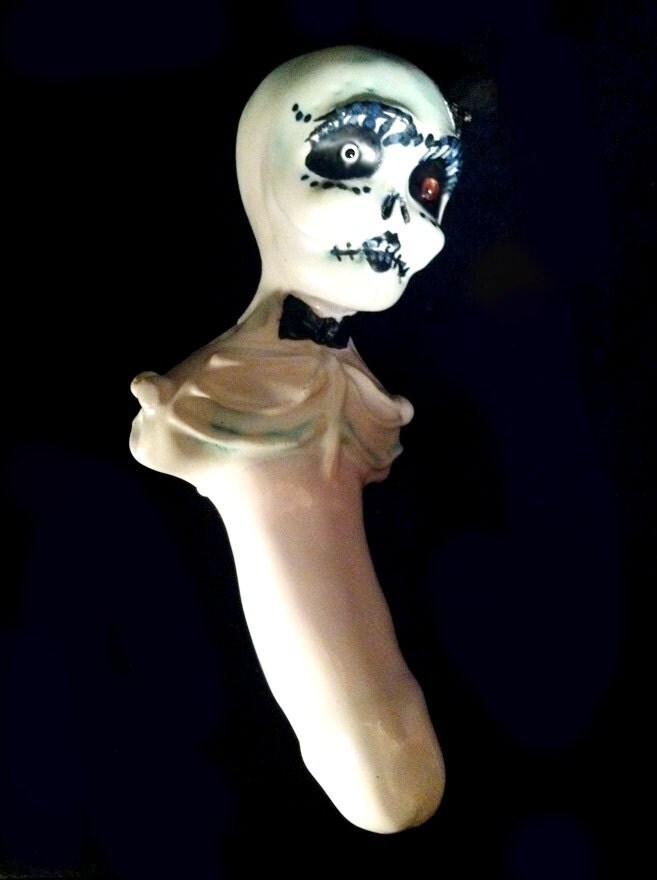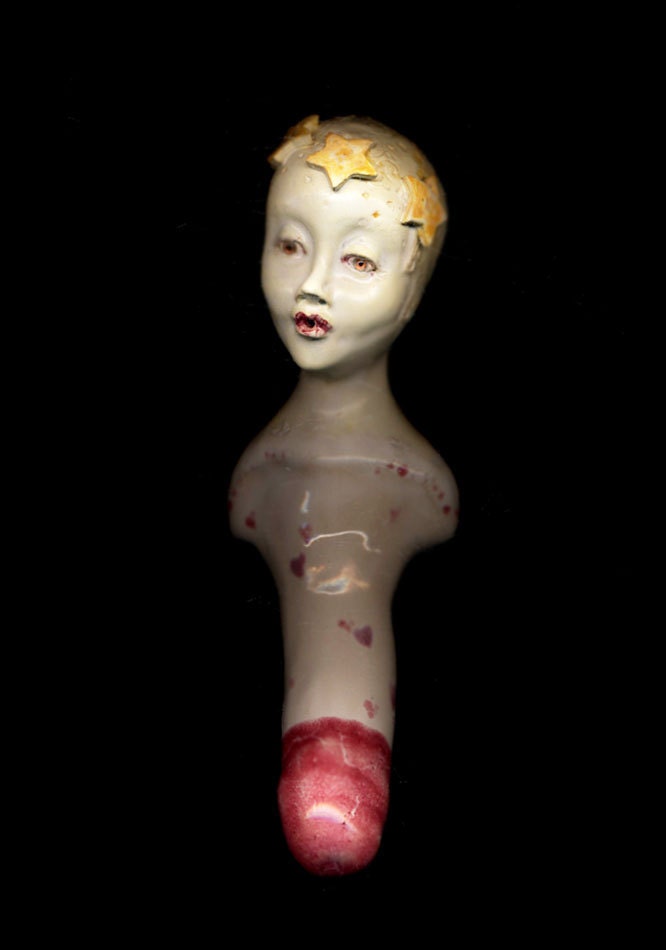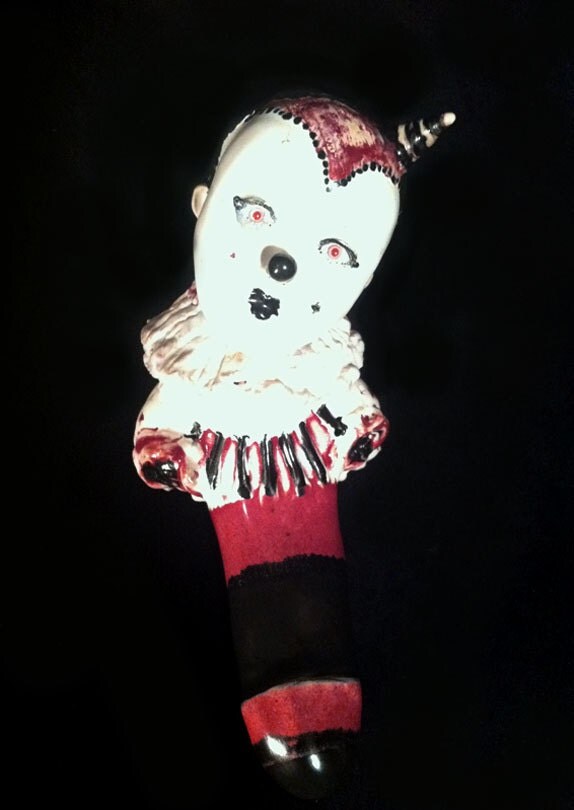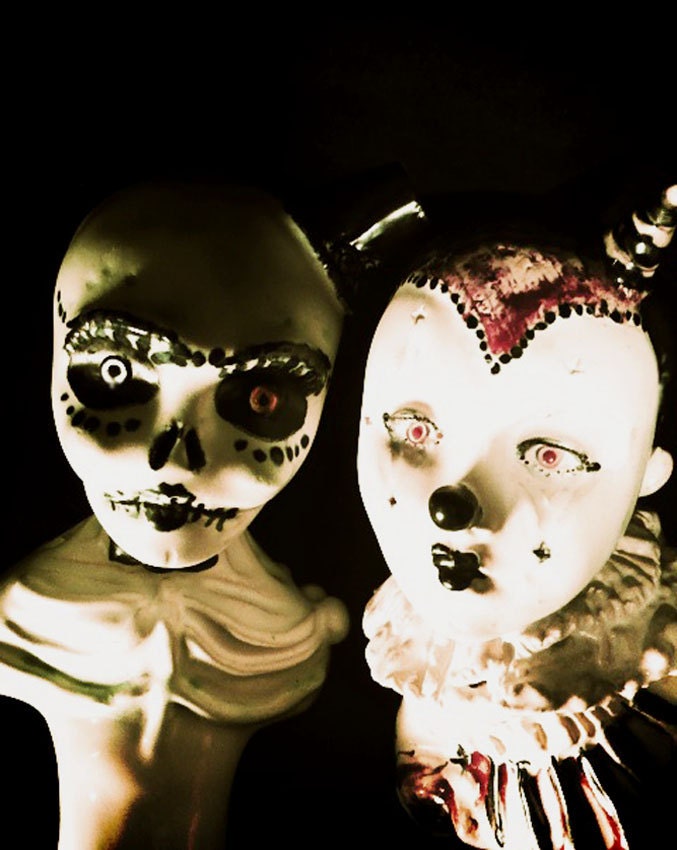 WHAT THE FUCK?! What is this shit? Who would put this near their genitals? This is the stuff of nightmares. I will sleep poorly for weeks after seeing this. And you want people to fuck these monstrosities? WHAT?!?!?!
…
…
…
And that's Etsy for you, galleons.